MDC Dismisses 'Fake' Letter Cancelling 16 August Demo
4 years ago
The MDC has dismissed as fake a letter circulating on social media announcing that the demonstrations set for 16 August have been cancelled. MDC secretary-general, Chalton Hwende said:
Please ignore this fake letter circulating on social media. The MDC Communication Dept is addressing a Press Conference at 14:00 today. The Demo is on as scheduled.
Meanwhile, the letter purported to be from MDC president Nelson Chamisa's office reads:
RE: 6 AUGUST 2019 ZIMBABWE SHUT DOWN DEMONSTRATION

The planned demonstration on the 16th of August 2019 has been cancelled waiting for further instructions, reasons being that the social media is awash with miscommunication, Zanu Pf hand has been detected to foil our mobilisation, planned heavy security crackdown among others.

Are you a Civil Servant or Pensioner in Zimbabwe?

Get a smartphone 📱 on Zero Deposit. 24 hours to process.

Therefore, all Provincial Chairpersons be guided accordingly.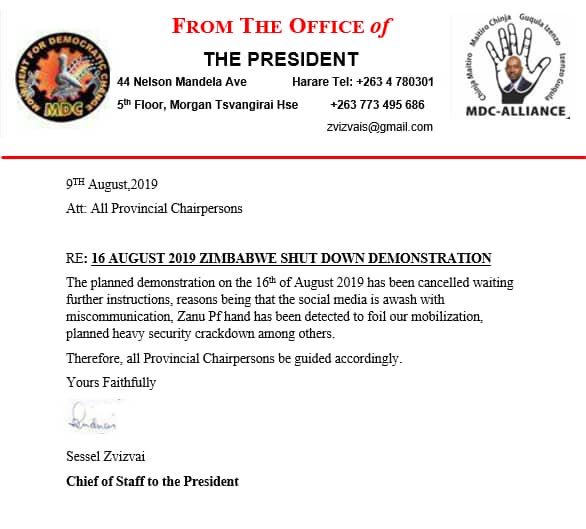 Tags
0 Comments
Leave a Comment
Generate a Whatsapp Message
Feedback