230 Junior Doctors Set To Be Appointed Under Military - Leaked Letter
3 years ago
Thu, 01 Oct 2020 10:40:52 GMT
A leaked letter making rounds on social media suggests that 230 junior doctors are set to be appointed under the Defence Forces Service Commission (DFSC).
In the letter dated September 28, 2020, written by the Health Services Board and addressed to the Secretary of Health, HSB indicates that permission has already been granted for recruitment of the doctors.
Some doctors commenting on the letter suggested that the letter is a pointer that the government was militarising the health sector.
They added that the move was the government's desperate plan to avoid future industrial action. The letter reads in part:
RE: RECRUITMENT OF JUNIOR RESIDENT MEDICAL OFFICERS UNDER THE ZIMBABWE DEFENCE FORCES SERVICE COMMISSION
The above subject mailer refers.
The Health Service Board was, in August 2020 granted concurrence by the Ministry of Finance to appoint 407 Junior Resident Medical Officers on condition that some of them are appointed under the Defence Forces Service Commission.

It is noted that 230 Junior Resident Medical Officers are in their final examinations and will be ready to he absorbed into service upon successful graduation. In view of the Treasury Concurrence, the Health Service Board is recommending that the 230 JRMOs be employed under the Zimbabwe Defence Forces (20F) who have indicated that they are wilting and ready to do so. Therefore, the Ministry will not be filling any the JRMO posts in this current year.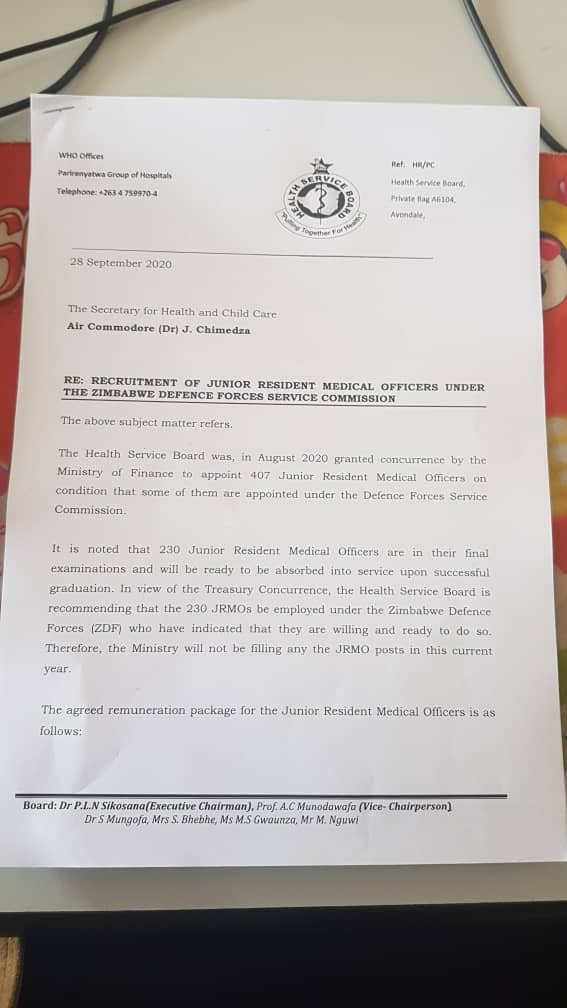 Tags
0 Comments
Leave a Comment
Generate a Whatsapp Message
Feedback