ZERA Announces New Fuel Prices
2 years ago
The Zimbabwe Energy Regulatory Authority (ZERA) has announced new fuel prices effective Wednesday, 8 September 2021.
ZERA has set the maximum pump price of diesel at ZWL$115.15 or US$1.34 per litre and petrol at ZWL$118.42 or US$1.38 per litre.
This is a slight increase from the fuel prices of August that were pegged at ZWL$114.29 or US$1.33 per litre of diesel and ZWL$117.07 or US$1.37 per litre of petrol.
In a public notice issued this Wednesday, ZERA said operators may sell at prices below the cap depending on their trading advantages.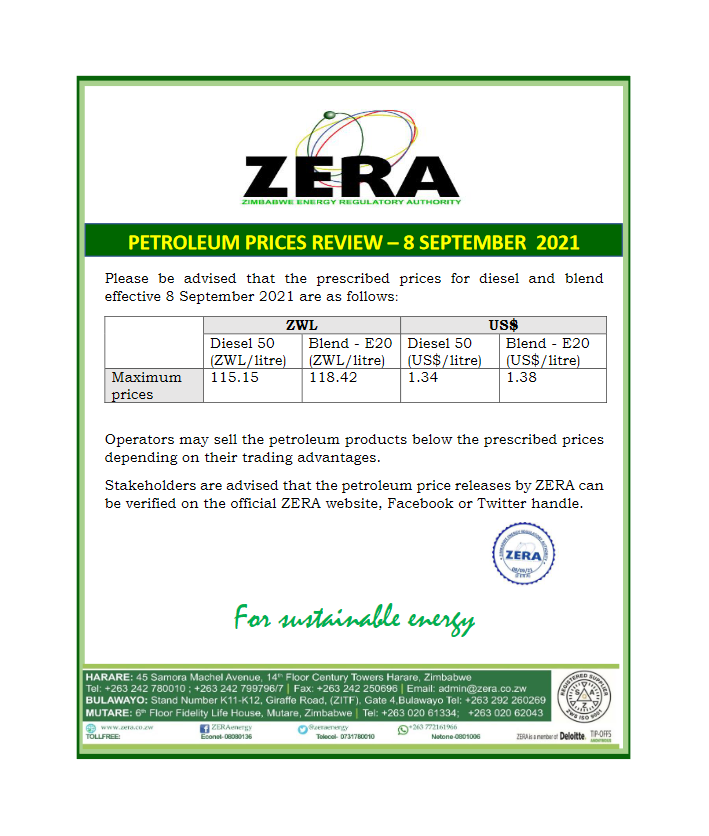 Are you a Civil Servant or Pensioner in Zimbabwe?
Get a smartphone 📱 on Zero Deposit. 24 hours to process.
ZERA delayed the reviewing of September 2021 fuel prices citing developments taking place in the international oil market.
In a statement released on Monday, ZERA said it will announce the September 2021 fuel prices in due course, while in the meantime, fuel dealers should continue using the August prices. The Authority said then:
ZERA is working vigorously to have the fuel prices for the month announced and are paying close attention to trends on the international oil market while consulting local key stakeholders on the likely impact of the developments on the final pump prices.

Fuel operators are therefore urged to continue trading as per the August 2021 fuel prices while consultations are being finalised.
Tags
0 Comments
Leave a Comment
Generate a Whatsapp Message
Feedback