"Tagwirei Is Making A Profit Of US$148k Per Bus" - Chin'ono
Zimbabwean journalist, Hopewell Chin'ono has claimed that President Emmerson Mnangagwa's advisor and Sakunda Holdings boss Kuda Tagwire is making huge profits in the bus deal he entered with the government.
Tagwirei's Landela a subsidiary of commodity trading firm Sotic International Ltd, through which Tagwirei acquired shares in Russian-Zimbabwean platinum joint venture, Great Dyke Investments, procured buses for Zupco's public transportation system and is now selling them to government at 'exorbitant' prices.
This was revealed in a memo of 14 May which notes that the government and Landela entered into a hire-to-purchase arrangement which shall see the government paying $863.2 million for 162 buses.
Reads the memo in part:
RE: REVIEW OF PROCUREMENT OF BUSES FROM HIRE TO OUTRIGHT PURCHASE: LANDELA INVESTMENTS (PRIVATE) LIMITED

We are in receipt of communication from the Minister of Local Government and Public Works as well as CMED (Pvt) Limited requesting for variation of payment arrangements for the 162 buses procured by Government from Landela Investments (Pvt) Ltd.

Landela Investments (Pvt) Ltd has a hire purchase agreement with CMED (Pvt) Limited for the supply of 162 buses valued at $863.2 million. To date, CMED (Pvt) Limited, has paid ZWL$132.4 million, leaving a balance of ZWL$730.8 million.

The hire purchase arrangement has been instrumental in reducing the hire cost of buses under the Mass Transport System,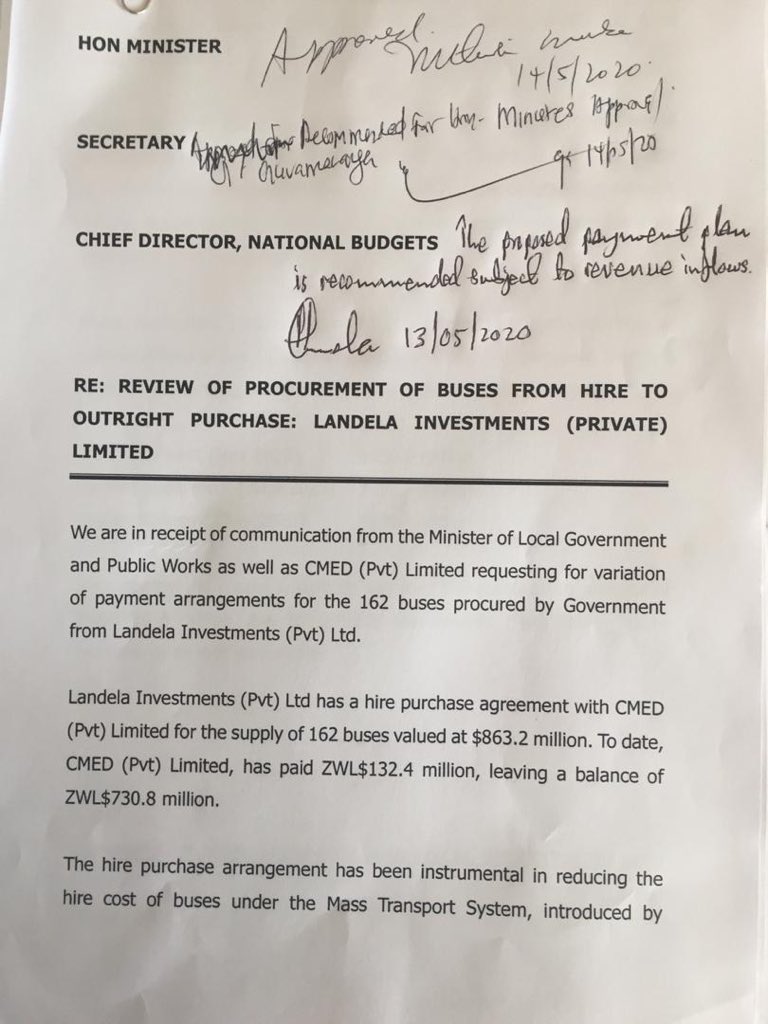 Commenting on the memo, Chin'ono said that the deal reveals how corruption, not sanctions have collapsed Zimbabwe's economy adding that it shows how Mnangagwa and "his clansman Kuda Tagwirei are LOOTING YOUR money."
He added that one (1) bus is Z$5.3m according to the deal and at the official rate of 25, it costs US$212k.
He also observed that these buses cost US$64k each in Beira which means Tagwirei is making a profit of US$148k per bus or US$24million for all.
More: Hopewell Chin'ono
Tags
Comments
Leave a Comment