83% Of Zimbabwean Houses Are Modern - ZIMSTAT
1 year ago
More than eighty per cent (80%) of Zimbabwean houses are modern while less than one per cent (1%) are mobile houses.
According to the 2022 Population and Housing Characteristics and living conditions Results published by the Zimbabwe National Statistics Agency (ZIMSTAT), nationally, 83 per cent of dwelling units were modern.
Fifteen per cent (15%) of houses are traditional, that is, they are made of pole and dagga while 1.1% are shacks.
A shack is a small house or cabin that is crudely built and furnished.
ZIMSTAT classified 0.3 per cent of dwelling units as "other" while 0.1 per cent were mobile.
Are you a Civil Servant or Pensioner in Zimbabwe?
Get a smartphone 📱 on Zero Deposit. 24 hours to process.
Type of Dwelling Unit
Modern: 3,170,938 (83.0%)
Traditional (Pole and Dagga): 593.043 (15.5%)
Shack: 42,430 (1.1%)
Other: 10,240 (0.3%)
Mobile: 3,835 (0.1%)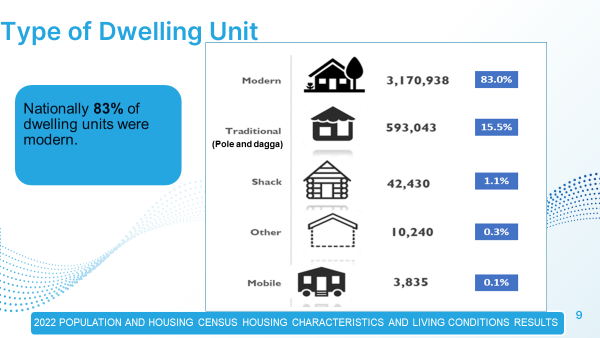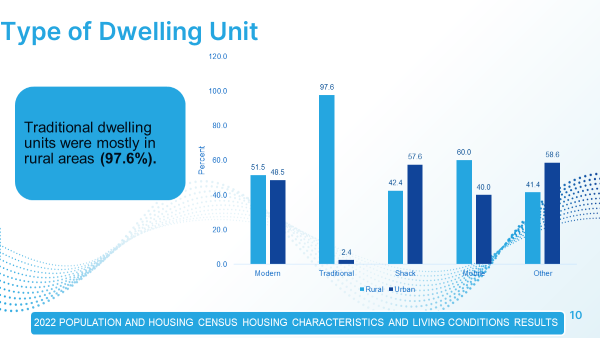 Tags
0 Comments
Leave a Comment
Generate a Whatsapp Message
Feedback