JUST IN: New Official Fuel Prices Announced By ZERA
4 years ago
The government, through the Zimbabwe Energy Regulatory Authority (ZERA), has officially announced new fuel prices after having been in denial since Monday.
Two hours ago, ZERA sent out a strong statement warning fuel companies against raising the price and hoarding, but in a dramatic turn of events, the fuel price has since been hiked.
Some commentators are of the view that ZERA was forced to raise prices after fuel dealers stopped selling, anticipating the price to go up.
In a statement on Tuesday, ZERA announced that with effect from May 21, 2019, the price of diesel has been pegged at $4.89 while petrol will be sold at $4.97.
Since these new prices are applicable for 5 days, it means fuel might go up again depending on the interbank rate movement.
Are you a Civil Servant or Pensioner in Zimbabwe?
Get a smartphone 📱 on Zero Deposit. 24 hours to process.
In the latest announcement ZERA said:
The Zimbabwe Energy Regulatory Authority (ZERA) advises that in terms of amendments to Statutory Instruments 9 and 10 of 2019 and the new measures taken by the Reserve Bank of Zimbabwe on fuel procurement based on the interbank rate, applicable prices for the period May 2019 to 26 May 2019 are summarised in the table below: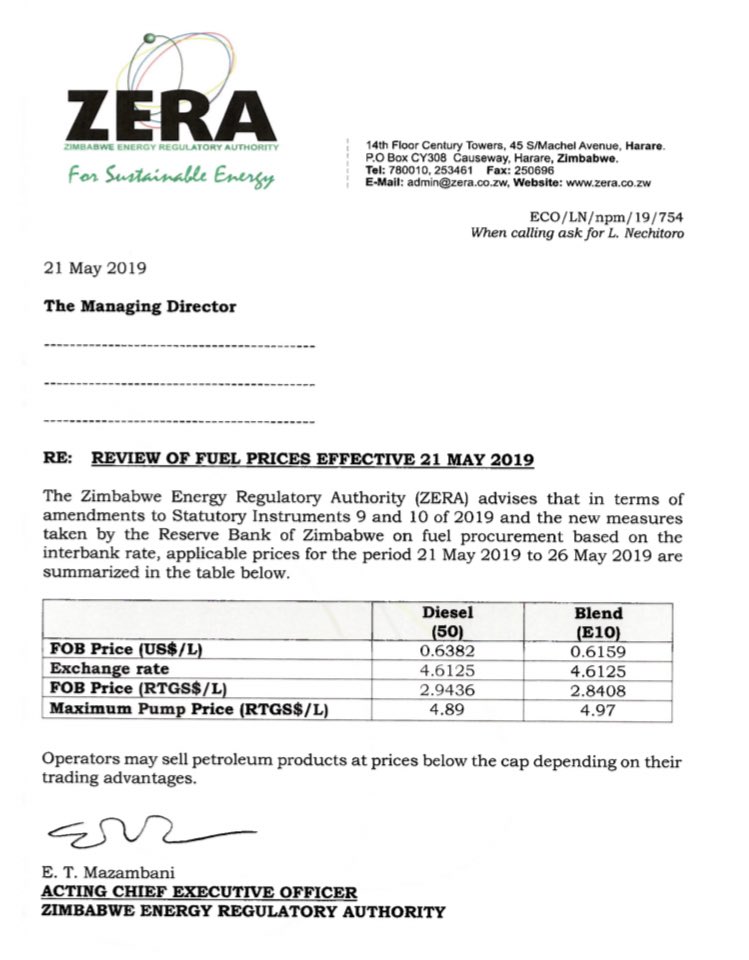 Tags
0 Comments
Leave a Comment
Generate a Whatsapp Message
Feedback