"Freedom Is Around The Corner," Saviour Kasukuwere
4 years ago
Fri, 22 Nov 2019 03:16:59 GMT
Exiled former Cabinet Minister, Saviour Kasukuwere has said that freedom was nigh for Zimbabwe. Kasukuwere who is believed to be the leader of Generation 40 (G40) party that was recently launched, skipped the country's borders in haste in 2017 following the demise of the late former president of Zimbabwe, Robert Mugabe.
His remarks come when there are reports suggesting that he wants to come and takeover ZANU PF leadership. It is believed that there are some G40 remnants in the ruling party who have been championing the agenda of dislodging President Emmerson Mnangagwa from power.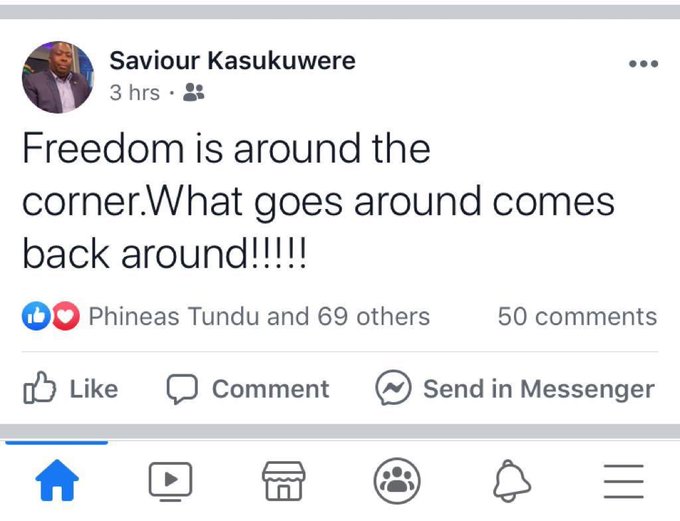 William Gerald Mutumanje who is popularly known as Ace Lumumba posted on Twitter suggesting that Kasukuwere intended to come and dislodge Mnangagwa from being the ZANU PF leader. Mutumanje said:
Saviour Kasukuwere will return & his first order of business will be to re-claim Zanu PF. OBVIOUSLY Zanu PF is a joke right now,no one takes it seriously. EDs strength is obviously the Masvingo tribal network (isusu). Kasukuwere's strength is, well-U will see why achinzi Tyson.
Others dismissed Mutumanje's remarks saying that he was just singing for his supper whilst some said he was hallucinating as security personnel were extra vigilant.
More: William Mutumanje
Tags
0 Comments
Leave a Comment
Generate a Whatsapp Message
Feedback