FULL TEXT: ZANU PF Youth League Statement On Machete Gangs
3 years ago
The ZANU PF Youth League has said that it condemns the acts of the machete-wielding gangs known as Mashurugwi or Al Shabab.
The ruling party's wing urged all stakeholders to diligently do their work to make sure that the gangs are contained.
The remarks come after reports have suggested that the gangs have been killing and sexually abusing miners and members of the public.
Other reports suggest that the gangs are getting protection from senior government officials with Jonathan Moyo boldly saying that President Mnangagwa and some ZANU PF big wigs are sponsoring the gangs.
At a Global Shapers' Road To Davos Townhall 2020 workshop held at Mt Pleasant Business Park on Friday that was also attended by Ministers of Foreign Affairs and Industry and Commerce, in that order, Sibusiso Moyo and Sekai Nzenza, youths expressed concern over the government's "silent diplomacy" which they said scared away potential investors.
Are you a Civil Servant or Pensioner in Zimbabwe?
Get a smartphone 📱 on Zero Deposit. 24 hours to process.
Below is the league's statement in full.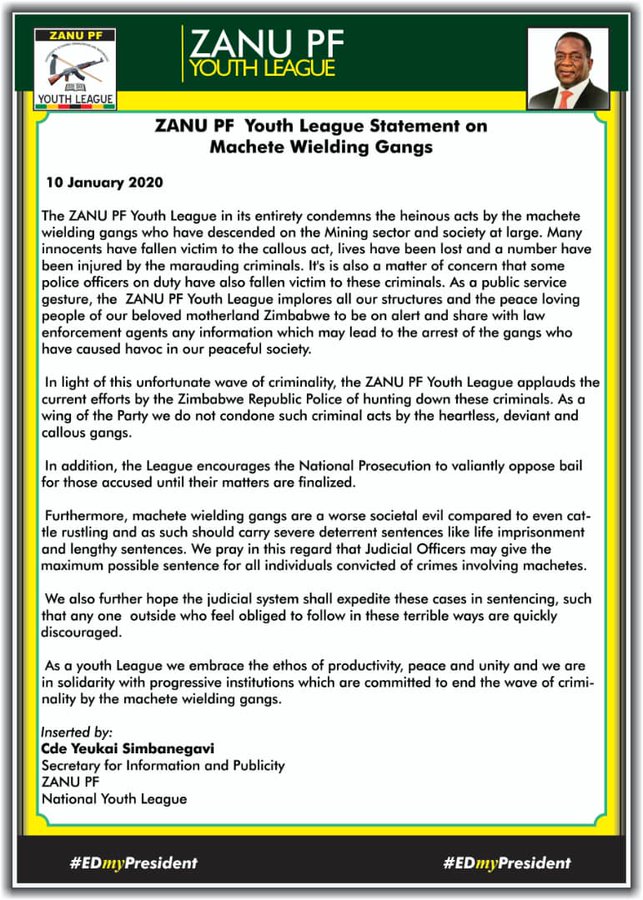 Tags
0 Comments
Leave a Comment
Generate a Whatsapp Message
Feedback