FULL TEXT: Ministry Of Health Speaks On Removal Of Flexible Hours
3 years ago
Wed, 06 May 2020 11:31:12 GMT
The Health Apex Council has met with the Permanent Secretary in the Ministry of Health and Child Care, Dr Agnes Mahomwa, over the removal of flexible hours.
Last year the government and workers agreed that nurses would report for work twice a week since the economic deterioration in the country had incapacitated them to go to work on a daily basis.
The Health Apex issued a statement after the meeting reporting on what transpired during the meeting. We present below the Apex's statement in full.
Health Apex Meeting with the Secretary for Health and Child Care

The major issue that prompted the meeting was the removal of flexible working hours. The Secretary for Health highlighted some points.

1. The decision was directed by the chairman of the COVID-19 taskforce Hon VP Mohadi to inform (tell) the health workers and not negotiate that the flexible working hours have been suspended by the declaration of State of Disaster by the President

2. This move was necessitated by the fact that the health service is preparing a proper response with enough manpower when the COVID-19 cases start to rise towards the peak.

3. The apatite meeting which discussed that directive, unfortunately, ifs minutes are not yet out to look at the deliberations that happened and the proposals given by the Heath Apex.

4. The MoHCC guidelines which were issued and stamped are silent on that pertinent issue pending the availing of the bipartite minutes.
5. The Secretary of Health highlighted that all she wants is a health service ready to deal with cases and that means all health workers on board working full time.
7. That all health workers should come on board to work towards planning and implementation of COVID-19 case management under the proposed pillars.

The Health Apex highlighted that health workers need to:

a) be provided with adequate PPE

b) be provided with enough time away from the exposure of COVID-19

c) be given better remuneration since they are the Frontline of fighting this pandemic.

d) that working hours should be removed by addressing all the raised remuneration is supposed to be pegged at the interbank rate. Both parties agreed to work together and engage more for a better COVID-19 response.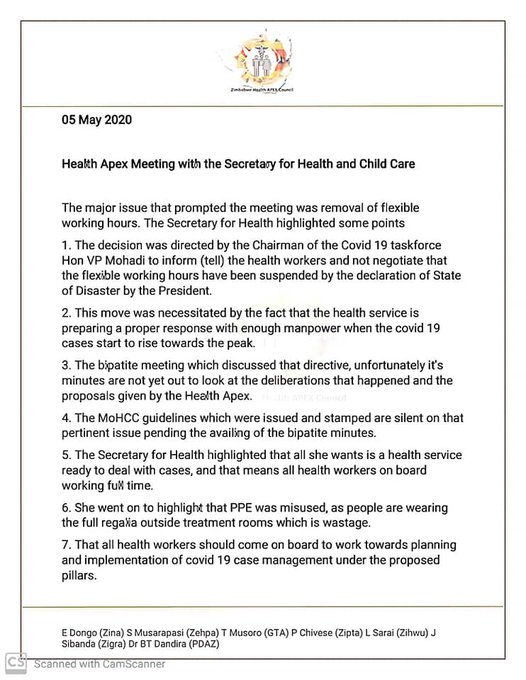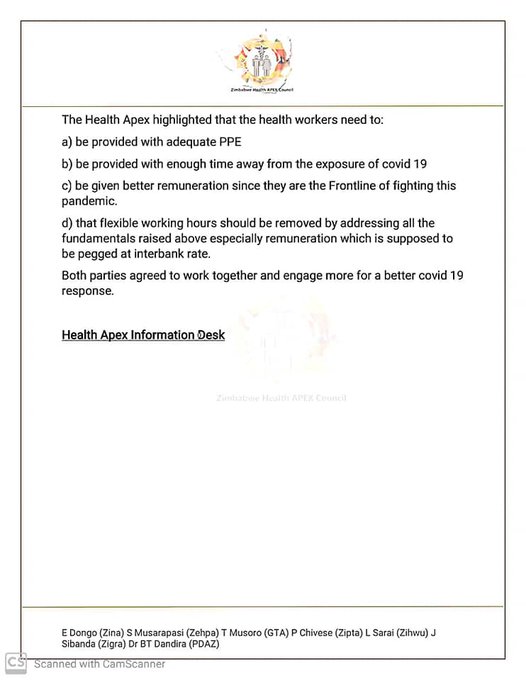 Tags
0 Comments
Leave a Comment
Generate a Whatsapp Message
Feedback