Mutodi 'Fights Boss' After Govt "Distanced" Itself From His Remarks On Magufuli
The Deputy Minister of Information, Publicity and Broadcasting Services, Energy Mutodi has verbally attacked his boss, Senator Monica Mutsvangwa after ZBC News posted an article which read "Government distances self from Mutodi's COVID-19 statements."
Mutodi responded saying:
This shows gross competence at the ZBC and it also goes on to show how Monica and her husband Chris are abusing the state media.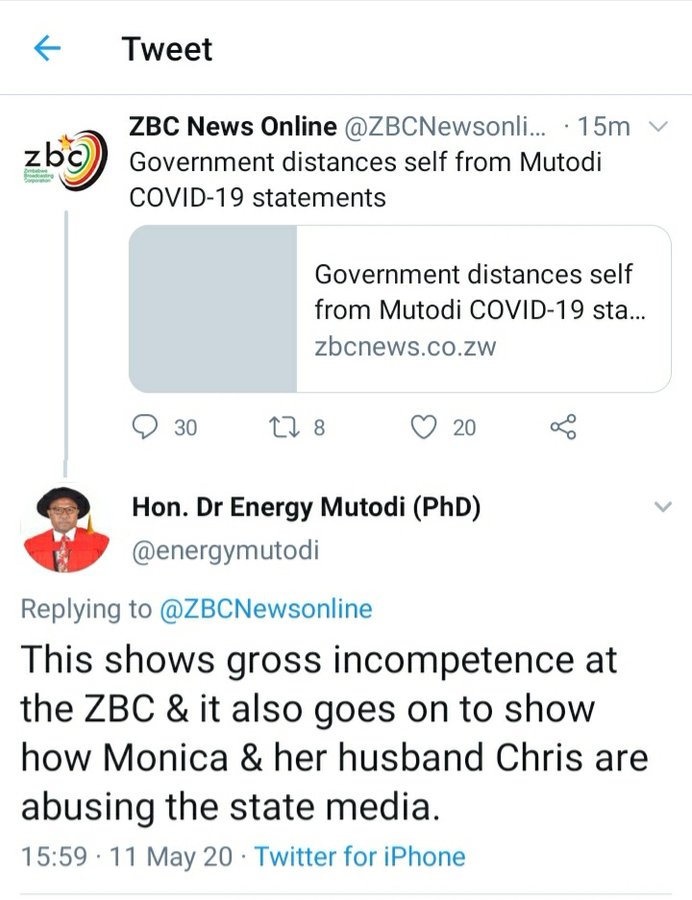 ZBC later deleted the post and posted another one titled "Government distances self from Deputy Minister's COVID-19 statements."
The article was a response by the Minister of Foreign Affairs and International Trade, Dr Sibusiso Moyo, to Mutodi's mockery of Tanzania's response to COVID-19.
Mutodi had suggested that the measures adopted by Tanzania's president, John Magufuli were inferior to those adopted by President Mnangagwa as the number of coronavirus cases in Tanzania are more compared to those recorded in Zimbabwe.
Moyo said that Mutodi's statement was said in his personal capacity and did not represent the position of the Zimbabwean government adding that all countries were sovereign hence entitled to choosing courses of action which were appropriate to them.
More: ZBC News
Tags
Comments
Leave a Comment