COVID-19 Update: No New Cases Recorded On 19 May 2020
The Ministry of Health and Child Care says no COVID-19 cases were recorded from the 553 PCR diagnostic tests conducted on 19 May 2020.
In its daily coronavirus (COVID-19) update released this Tuesday evening, the Ministry said confirmed cases remain at 46, with 14 175 PCR tests having been done to date.
Below are the highlights of the situation report:
No case tested positive for COVID-19 today.
Today 1 291 RDT screening tests and 553 PCR diagnostic tests were done. The cumulative number of tests done to date is 31 589 (17 414 RDT and 14 175 PCR).
To date the total number of confirmed cases remains 46; recovered 18, active cases 24 and 4 deaths, since the onset of the outbreak on 20 March 2020.
The Ministry also discouraged members of the public from stigmatising or teasing anyone about being sick with COVID-19 because the virus does not follow geographical boundaries, ethnicity, age, ability or gender.
See the table below: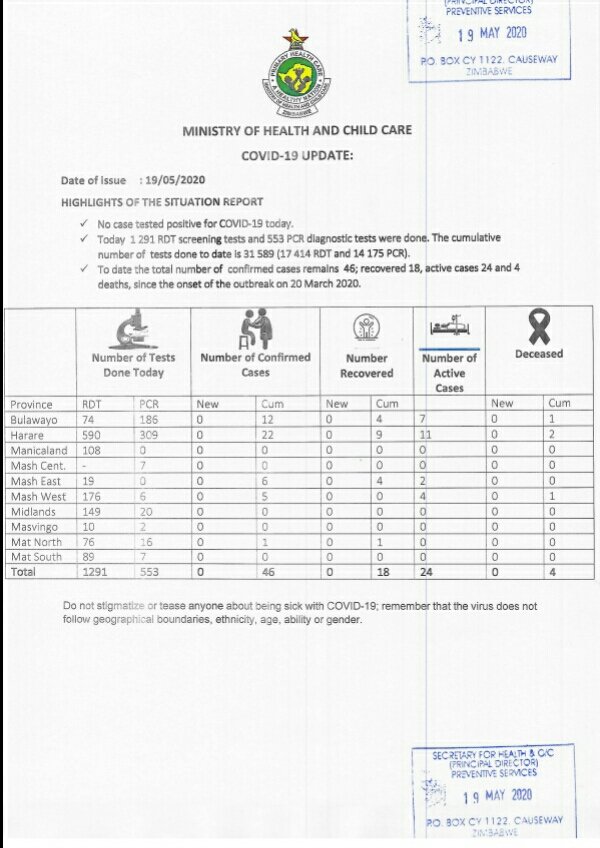 Tags
Comments
Leave a Comment