Zimbabwe Records 98 New Coronavirus Cases, 18 From UBH - 8 July 2020
Zimbabwe has recorded 98 new coronavirus cases bringing the total number of officially recorded cases to 885.
In a statement, the Ministry of Health and Child Care said the new cases include returnees from Botswana (28), South Africa (22), Swaziland (1) and 47 local cases who are isolated.
The Ministry also reports that 23 of the local cases are contacts of known confirmed cases adding that investigations were underway to establish the source of infection for other 4 local cases.
Five people recovered from the virus bringing the total number of recoveries in the country to 206 while fatalities remain at 9.
Harare still has the highest cumulative number of cases, 250 followed by Bulawayo which has 154 cases. The bulk of cases in Bulawayo have been recorded in the past 2 days.
Meanwhile, eighteen health workers in the same ward at the United Bulawayo Hospitals (UBH) have tested positive for COVID-19 after a man admitted as a patient earlier tested positive.
Affected staff members were placed in self-isolation at home after a man admitted to the hospital tested positive for COVID-19.
The exact number of health workers who came into contact with him was not immediately availed, but results of 18 of them came positive.
Recently, 68 health workers at the hospital were forced to self-isolate at home after a 79-year-old woman who tested positive died at the referral facility, but their status could not be established immediately.
Last month, 14 nurses at Mpilo Central Hospital who were part of 197 isolating at home tested positive for Covid-19 after coming into contact with patients who were infected with Covid-19.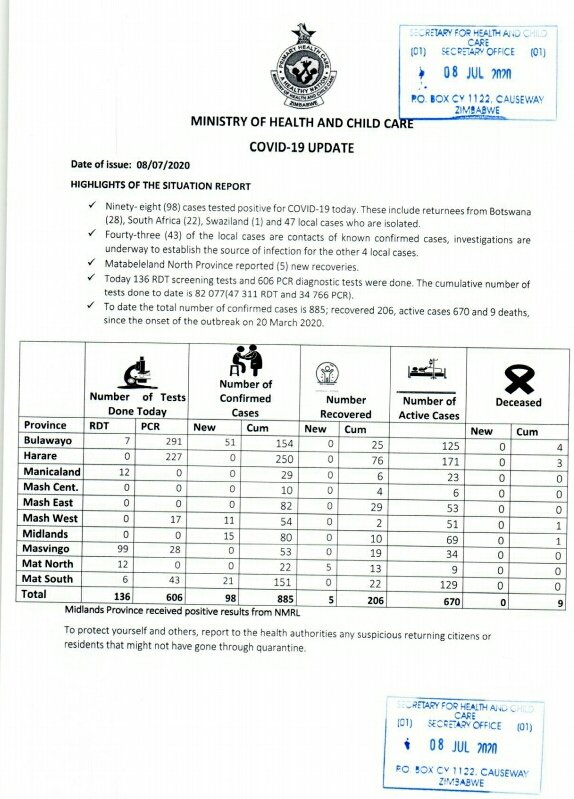 Tags
Comments
Leave a Comment