Zimbabweans To Repay Hotel's CBZ Loans In Case Of Default
2 years ago
Finance and Economic Development Minister Mthuli Ncube has signed the Government of Zimbabwe to be surety on a $10 million loan taken by a private business, Mbano Manor Hotel from CBZ.
This means that if Mbano Hotel defaults, taxpayers will have to pay back the loan, thus Zimbabweans will bear the burden of private debts.
In terms of General Notice 370 of 2021 issued on 12 March 2021, Ncube said:
IT is hereby notified, in terms of section 300(3) of the Constitution of Zimbabwe, as read with section 20(1) of the Public Debt Management Act (Chapter 22:21], that the Minister of Finance and Economic Development has issued the following Government Guarantee –

(a) guarantee, binding the Government of Zimbabwe as surety for the repayment of ZWL$10,000,000,00 (50% of the Facility) to Mbano Manor Hotel/Mambano Hotels (Private Limited from the Commercial Bank of Zimbabwe, should there be any outstanding amounts due to Lender at the date of maturity of the guarantee, the guarantor undertakes to make the full payment of all amounts payable by the guarantor in terms of this guarantee upon demand from the Lender within thirty (30) calendar days;

Are you a Civil Servant or Pensioner in Zimbabwe?

Get a smartphone 📱 on Zero Deposit. 24 hours to process.

(b) the guarantee shall remain valid until all amounts due under the terms and conditions of the Facility are paid up.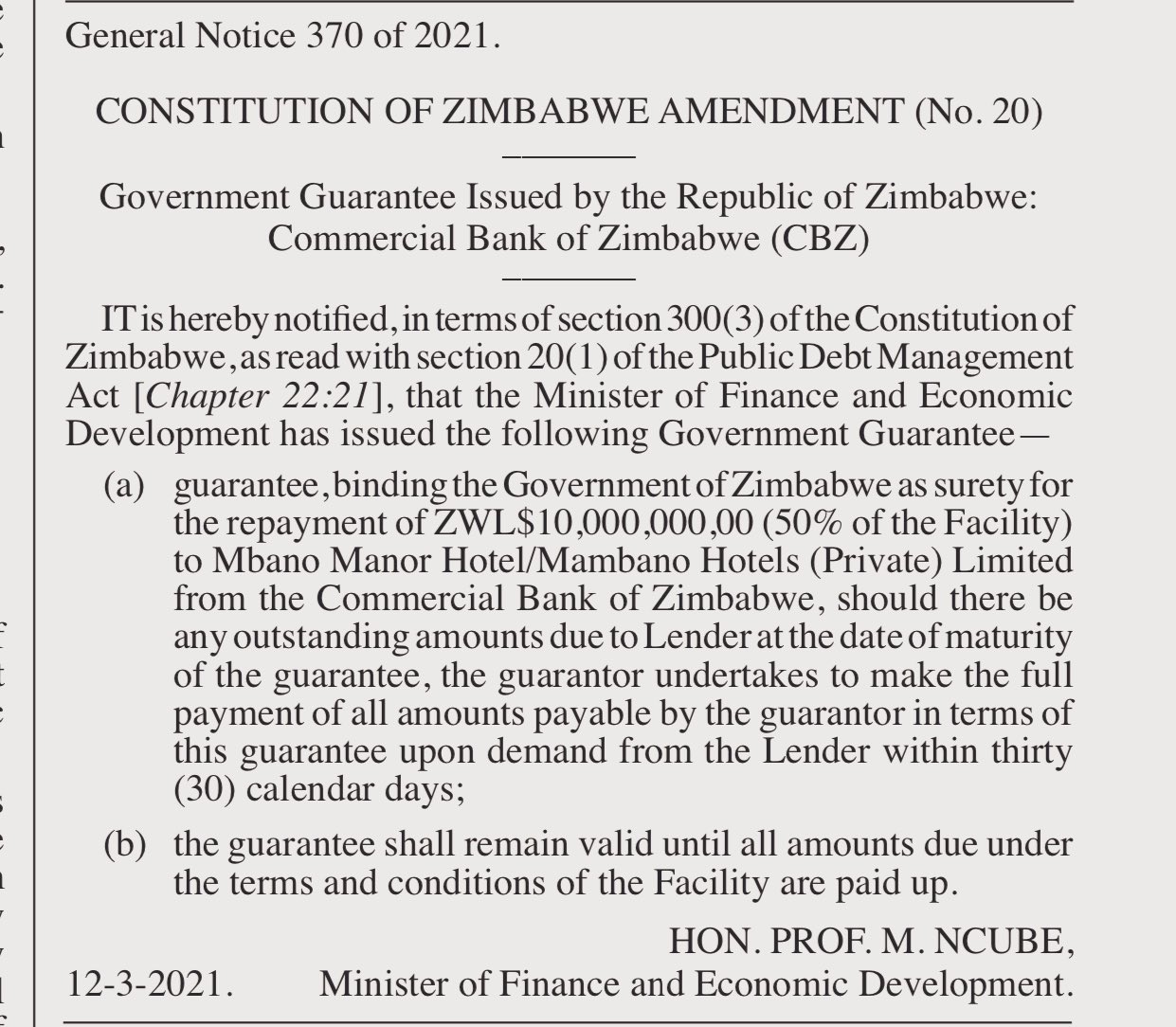 Tags
0 Comments
Leave a Comment
Generate a Whatsapp Message
Feedback