RBZ Forex Auction: Zimbabwe Dollar Official Rate 09 May 2023
6 months ago
Tue, 09 May 2023 19:20:49 GMT
The Zimbabwe dollar has lost significant value against the United States dollar on the foreign currency auction held by the Reserve Bank of Zimbabwe (RBZ).
On 09 May 2023, the weighted average was US$1: ZWL$1,212.5.8  up from US$1: ZWL$1,070 reported on 02 May 2023.
The central bank allotted a total of US$16,349 930.31 down from US$19,053,366.38, with the majority of the allotment going to raw materials, followed by machinery and equipment.
The amount allotted for the Small to Medium Enterprises Forex Auction was US$1,576,700.13 down from US$2,280,785.72, while the Main Forex Auction was allotted US$14,773,230.18 down from US$16,772,580.66.
♦ Weighted Average Rate moved to 1,212.5.8 up from 1,070.
How the money was allocated:
Raw Materials ………………………. (SME) US$392,11.03 7,17,37.67; (MAIN) US$7,017,237.67
Machinery and Equipment …………. (SME) US$590,158.96; (MAIN) US$3,047,072.03
Consumables (Incl. Spares, Tyres, Electricals, etc) – (SME) US$200,611.76; (MAIN) US$963,868.44
Services (Loans, Education, Dividends, Disinvestments, etc) – (SME) US$170,312.82; (MAIN) US$854,682.24
Retail and Distribution (Incl. Food, Beverages, etc) – (SME) US$111,545.24; (MAIN) US$1,390,864.07
Lubricants …………………………. (MAIN) US$50,000,00
Pharmaceuticals and Chemicals … (SME) US$57,666.08; (MAIN) US$407,331.35
Paper and Packaging ……………… (SME) US$53,894.24; (MAIN) US$1,042,174.38
TOTAL amount alloted to SMEFX134/2023  … US$1,576,700.13
TOTAL amount alloted to MAIN FX140/2023) … US$14,773,230.18
GRAND TOTAL AWARDED ……. US$16,349 930.31

Notes

Bids with overdue CD1s, outstanding Bills of Entry (BOEs), insufficient ZWL and those with sufficient FCA balances were also disqualified.
Some Bids were allotted on a pro-rata basis.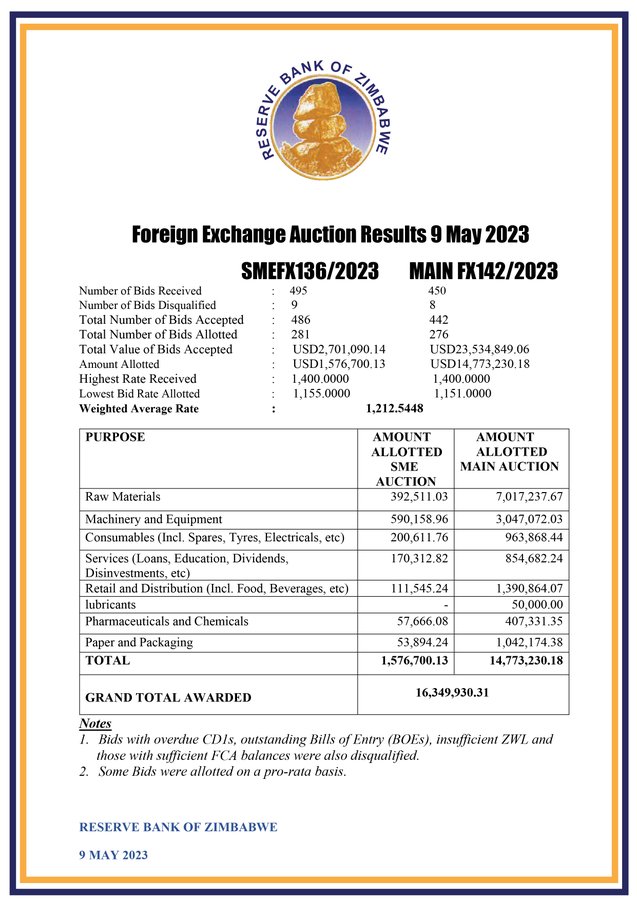 More: Pindula News
Tags
44 Comments
Leave a Comment
Generate a Whatsapp Message
Feedback