Zimbabwe Dollar Official Rate - 20 June 2023
5 months ago
Tue, 20 Jun 2023 14:55:07 GMT
The Reserve Bank of Zimbabwe's (RBZ) official exchange rate has moved to almost ZWL$7 000 to the US dollar.
The Weighted Average Rate from the forex auction conducted on Tuesday, 20 June 2023, was ZWL$6 926.5764.
On 13 June 2023, the wholesale weighted average was US$1: ZWL$5 978.6794.
Today, the RBZ said 73 bids were received on the regular forex auction, and all the bids were accepted but only 50 bids were allotted. The total amount allotted was US$1,135,542.46.
On the wholesale auction, 12 bids were received and all the bids were accepted and all received allotments. The RBZ said the total amount allotted wasUS$10,614,000.00
The RBZ said that all bids within the pre-announced amount were allotted in full.
It said bids with overdue CDIs, outstanding Bills of Entry (BOEs), insufficient ZWL and those with sufficient balances were also disqualified.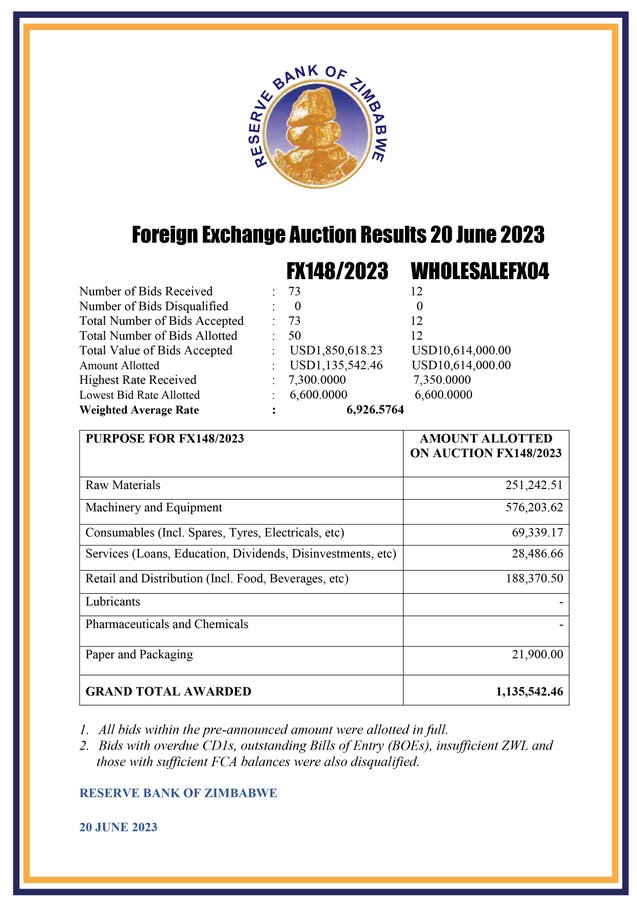 More: Pindula News
Tags
20 Comments
Leave a Comment
Generate a Whatsapp Message
Feedback