Zimbabwe Dollar Official Rate Now ZWL$4 883 Per US$1
4 months ago
Fri, 14 Jul 2023 14:01:04 GMT
The Zimbabwe dollar has firmed again on the Wholesale Foreign Exchange Auction conducted on Friday, 14 July to ZWL$4883.8208 per US$1.
On Tuesday, 11 July, the weighted average was ZWL$4 998.8352, which was itself a significant recovery from the ZWL$5 251.0640 on 06 July 2023.
Today, 10 bids were received from banks, and all 10 bids were accepted but only 8 bids were allotted.
The RBZ said that the total value of bids accepted was US$5,295,000.00, while US$4,845,000.00 was allotted.
The amount on offer was US$20 000 000.00.
The highest bid rate received was ZWL$5,037.3700 while the lowest bid rate received was ZWL$4,700.0000.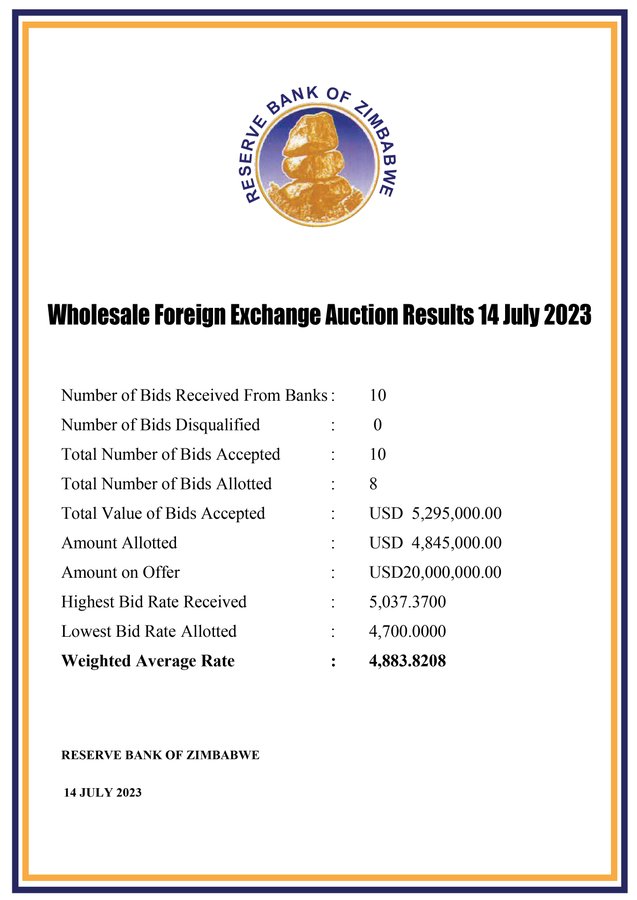 More: Pindula News
Tags
32 Comments
Leave a Comment
Generate a Whatsapp Message
Feedback