Zimbabwe Dollar Official Rate Now $4 537 Per US$1
4 months ago
Thu, 20 Jul 2023 10:58:11 GMT
The Zimbabwe dollar continued firming against the United States Dollar following the latest Reserve Bank of Zimbabwe wholesale foreign currency auction held on Thursday, 20 July.
The Zim dollar is now trading at ZWL$4 537.4909 from ZWL$4 771.3854 per US$1.
This Thursday, 13 bids were received, and all 13 bids were accepted. However, 11 bids were allotted.
The total value of bids accepted was US$6,383,500.00 and US$5,705,700 was allotted.
The amount on offer was US$20 000 000.00.
The highest bid rate was ZWL$4.711.7431 while the lowest bid rate was ZWL$4,537.4909.
Below are the rates from the last five auctions:
20 July: $4 537.4909
18 July: $4,771.3854
14 July: $4883.8208
11 July: $4 998.8352
06 July: $5 251.0640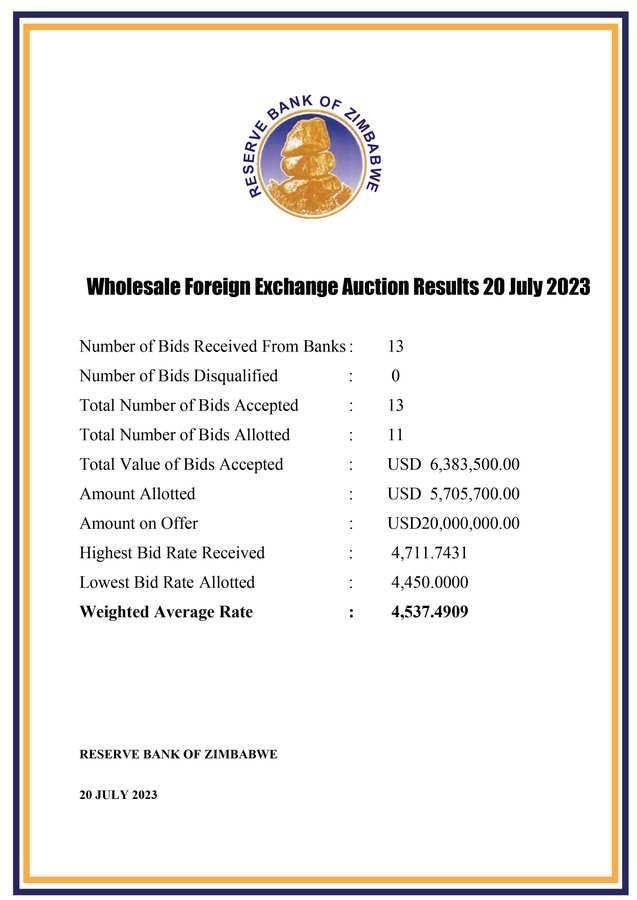 More: Pindula News
Tags
16 Comments
Leave a Comment
Generate a Whatsapp Message
Feedback