FULL LIST: Top 20 Junk Currencies - US Economist
Renowned economist, Steve Hanke has listed the Zimbabwe dollar among the "top 20 junk currencies" that need to be dumped to prevent a total collapse of economies.
On top of his list is Venezuela whose currency has since 2019 depreciated by 70.64 percent followed by Zimbabwe whose dollar has depreciated by 54.78 percent.
The list is as follows:
Venezuela
Zimbabwe
Lebanon
Syria
Sudan
Brazil
South Africa
Zambia
Iran
Mexico
Nigeria
Seychelles
Colombia
Russia
Uruguay
Turkey
Belarus
Ghana
Argentina
Turkmenistan
Posting on Twitter, Hanke said:

The top 20 junk #Currencies are displayed. Their loss of #PurchasingPower is a heart-wrenching sight. It's like watching a child bleed to death and being unable to stop it. Time to dump junk & clone a solid anchor, like #Gold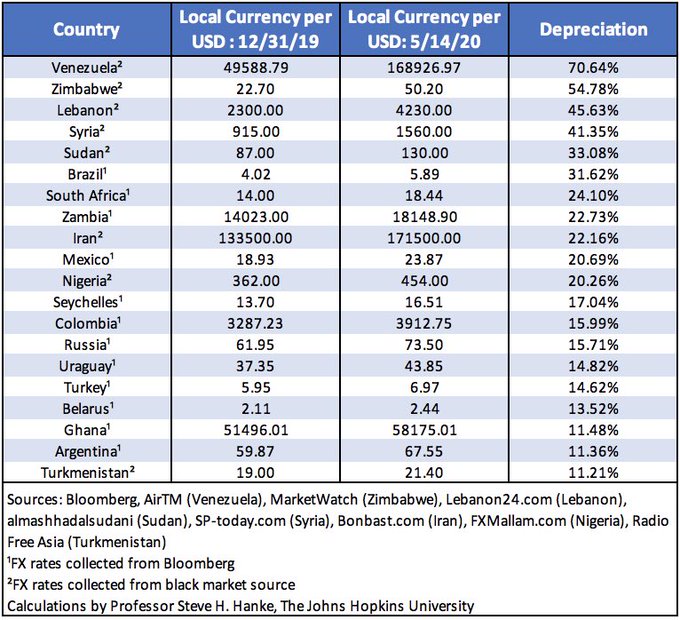 Zimbabwe reintroduced its dollar in June 2019 at the same time suspending the multicurrency system that had been in place for a decade.
The multicurrency system was adopted following a record 231 million percent hyper inflation of 2008.
Since its reintroduction, the Zimbabwe dollar has rapidly shed value against other currencies, particularly the United States dollar.
This has had an adverse impact on the country's economy and living standards resulting in a worsened socio-economic crisis.
More: Prof Steve Hanke
Tags
Comments
Leave a Comment